What will you Control with the WiFI Control Hub VegeHub?

The applications for the VegeHub WiFi control hub are limitless.

Control anything from anywhere with input from local or remote sensors. It can control water pumps, sprinkler systems, alarms, lights, heaters, fans and valves.

The VegeHub WiFi control hub has all of the functionality of our standard 4 input sensor WiFI hub with the addition of a high capacity 16A 250V relay, which can turn on or off nearly any electrical device.

The relay can be controlled by settings from the local sensor inputs, or from an external web link, which you specify.

View your sensor data from any web browser on your phone or computer. Get text messages and emails from sensor triggers.

Within minutes you will be able to setup the VegHub and send data to common 3rd party web sites such as: VegeCloud, ThingSpeak, and Adafruit.

Get creative with how you use the WiFi control hub. For example, you can monitor and control chicken water tanks with AquaPlumb Sensors, and get an alert when the water is getting low. You can remotely control the soil moisture and temperature of your garden or greenhouse using VH400 soil moisture sensors, and THERM200 soil temperature sensors.

You'll probably come up with applications we haven't even though about. Drop us a email if you do, and we'll post them on our site.

Built-in Security For Your Sensors

The VegeHub uses TLS 1.2 SSL for secure Internet connections, allowing it to do secure HTTPS posts to servers. If you don't care about security, you can still post using regular HTTP.

The VegeHub comes with the most commonly used website certificates, or using our certificate tool, you can install your own.

Designed for Long Battery Life

One of our primary design goals for the VegeHub was long battery life. We wanted you to be able to place this anywhere without worrying about power connections. Under normal use scenarios batteries will last over a year.

We designed the hub with a power efficient latching relay. Power is only consumed for 40 milliseconds when the latching relay changes state. The rest of the time it consumes zero power, even when the relay is engaged.

The hubs come with a battery cable clip, suitable for standard 9V batteries. If you are using power from an adapter, you can replace the clip with your own wires.

For extended durations we recommend using a 9V AA battery pack with 6 AA batteries. We sell 9V AA battery holders. Use lithium batteries if the location will get cold.

You can configure the VegHub to send it's battery voltage when it updates to the server, so that you can monitor its level.

Battery life depends on your sample frequency, and update rate. Most agricultural sensors change rather slowly, and so a sample rate of once per hour is often sufficient and will extend your battery life.

Make sure you don't put batteries inside the box, because it is air tight, the batteries will off gas acid in the heat corroding the components.

Fast and Easy Setup

You can configure the VegeHub and add it to your local WiFi network by using a browser on your phone or PC.

Once you have connected it to your network you can plug in a USB thumb drive, and it will write its IP address to a file. This IP address allows you to configure it through it's web interface.

To configure it, press a button, and it will become a mini web server on your network, and serve up configuration pages. Examples of the configuration pages are provided below.

These pages allow you to select the cloud site to which you want the hub to report data. Each channel can be independently configured with multiple options. For example channels can be configured to sample data periodically or, can be trigger on an event. The sensor warm up time is configurable, as well as how often the hub reports to the server. If your sensor is just a push button switch you can configure the channel to have pull up or pull down resistors. See the Quick Start Guide for step by step instructions.

Connect to Common 3rd Party Sites

The VegeHub will connect with websites such as VegeCloud, ThingSpeak, or io.Adafruit out of the box. These sites will graph your data, and allow you to create actions, such as send an email, when your sensor data has crossed a particular threshold.

We especially recommend: VegeCloud.com which will store your data, and allow you visualize it with graphs, and allow you to set triggers on your data so that you can get text alerts and email messages, when your sensors have passed a threshold value.

If you want to post to your own website, this is also possible, using our simple VegeHub API.

Rugged and Waterproof for Long Life in Harsh Conditions

You can put this box outside in the rain or snow. The rugged ABS plastic box has silicone rubber gaskets making it waterproof. All of the cable entry points use cable glands, so that no water or insects can get in.

The box has flanges and screw holes for easy mounting, so that you can put it anywhere.

Vegetronix Modular Building Blocks

Our product philosophy is simple. We provide low-cost modular building blocks to our customers, and then let them come up with their own applications.

Get creative with our very unique sensors, WiFi Hubs, Relay Boards and come up with your own creations.
Do you Want to Also Control Things?

If also want to control devices, not just monitor them, then take a look at our VegeHub WiFi Controller Hub. This has a powerful 16A relay which can turn on pumps, valves, fans, heaters, alarms, etc. It's relay can receive inputs from up to 4 local sensors, or from a remote web URL that you specify.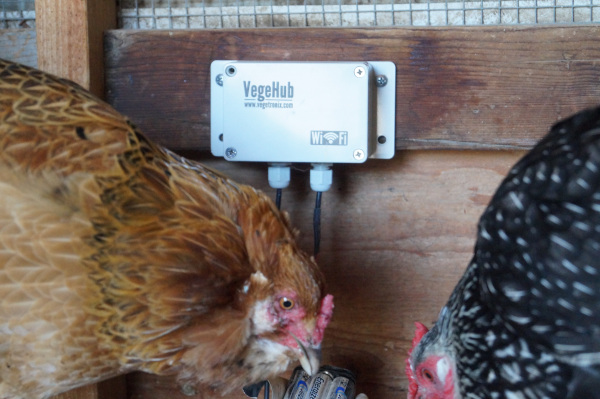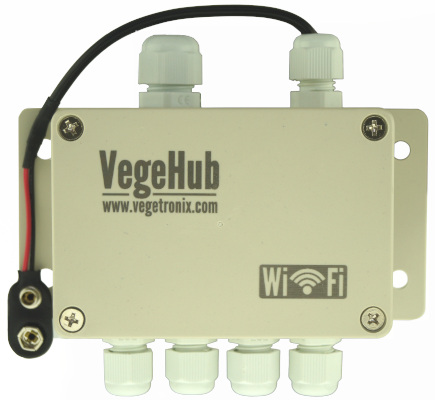 VegeHub Screen Shots of Web Interface
The following screen shots of the VegeHub's web interface show how the VegeHub can be flexibly configured.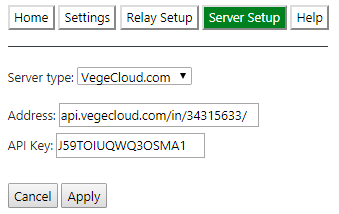 Select Your Cloud Server Through its Setup Pages

Configure the VegeHub Channels Through its Setup Pages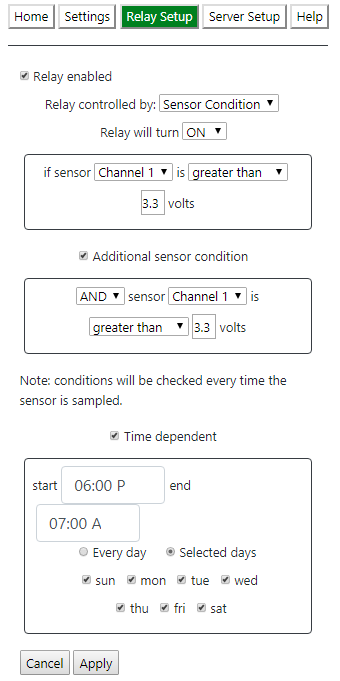 Setup the Relay to be Triggered from Local Sensors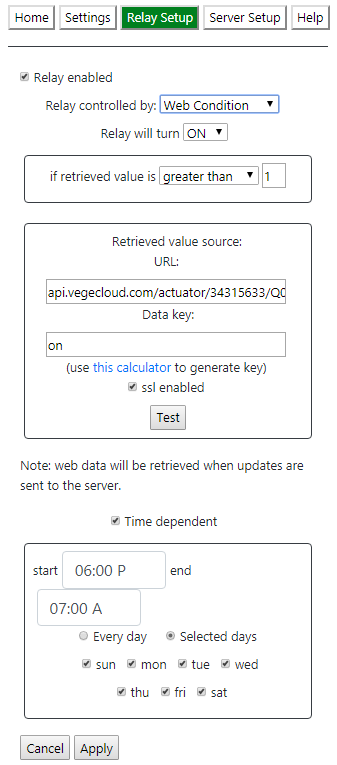 Setup the Relay to be Triggered from a URL