Davis model 7911 Anemometer (pulse type) and Wind Vane (potentiometric) sensor with 12 meter cable & RJ-11 jack.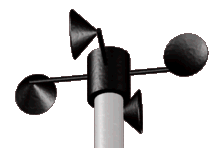 Includes mounting arm for mast, wall, wooden post or similar structure.
To display wind direction and wind speed, add our precision-crafted Anemometer.
Includes both wind speed and wind direction sensors.
Rugged components stand up to hurricane-force winds, yet are sensitive to the lightest breeze.
Vane is hand-balanced for optimal stability and accuracy.
Sealed stainless steel ball bearings for long life.
Comes complete with 12 m standard cable and the hardware needed to mount it on a pipe, wooden post, antenna mast, or similar structure.