The new ML3 ThetaProbe has extra features, improved performance and a new look. With its 1% accuracy the ThetaProbe continues to set the standard for soil moisture measurement but now also measures soil temperature.

Highy accurate yet easy to use
Con el Sensor ML3 Thetaprobe es fácil realizar medidas precisas y fiables de Humedad de Suelo. 
Simply insert the soil moisture probe into the soil, connect to your data logger or readout unit, provide 5-15V DC at 20mA, and within seconds you can be logging soil moisture.
The ML3 ThetaProbe is robust, buriable and maintenance free (environmentally protected to IP68) . It can be easily installed at depth into augered holes using the optional extension tubes. 
ML3 improvements 
The addition of a thermistor sensor enables the simultaneous logging of soil temperature with soil moisture. A new cabling system makes it simple to extend or replace cables. With a choice of 1m, 5m, 10m and 25m extensions, flexible configurations are now possible.
The ML3's salinity response has also been improved - its output has been characterised at EC values up to 2000 mS.m-1. The temperature range has also been improved - allowing operation at temperatures as low as -40 degrees C (non-flexing cables).
Data logging and readout
The ML3 can be logged by any Delta-T data logger, including the new GP2. It is compatible with any logger that can provide 5 - 15V DC excitation power and will accept the 0 - 1V output signal. For portable applications the ML3 connects to the HH2 Moisture Meter and they can be ordered together as the convenient ThetaKit.
ThetaKitThe ML3 ThetaKit
This portable kit contains all the items needed to make rapid spot readings of soil moisture content with a ThetaProbe. The ThetaKit includes an HH2 Soil Moisture Meter readout unit, spare ThetaProbe rods, insertion kit and carrying case.
NB: The HH2 Meter does not provide temperature readout or recording.
Applications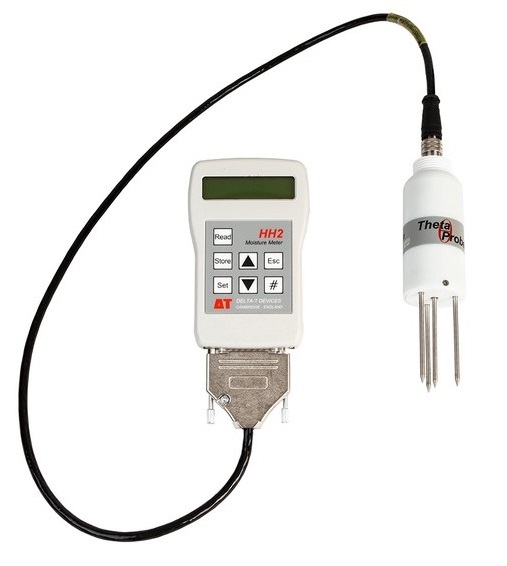 Typical application areas include irrigation, hydrology, civil engineering, soil water profiling, pollution monitoring and forestry. Because the ThetaProbe has a predictable saline response (which actually declines as salinity increases) it can be used even in very saline soils - up to 2000 mS.m-1.
The ThetaProbe is not limited to the measurement of soil moisture content - it is also used in non-soil media.
The ThetaProbe Soil Moisture Sensor is the result of collaborative development with the Macaulay Land Use Research Institute (MLURI).
"ML2x ThetaProbe: The ML3 ThetaProbe has superseded the ML2x model, which has been discontinued."