The Delta Ohm LP NET 14 is a Net Radiometermade up of 4 components to measure Net Radiation between 0,3 μm and 45 μm.
El radiómetro neto consiste en un par de piranómetros (uno para la medición de la radiación global Esw↓ y el otro para la radiación reflejada Esw↑) y un par de pirgeómetros (uno para medir la radiación infrarroja de arriba EFIR↓ y el otro para la radiación infrarroja de la tierra EFIR↑).
El LP NET 14 tiene un sensor de temperatura (NTC). La medición de la temperatura se necesita para medir con dos pirgeómetros. En efecto, la radiación infrarroja lejana que llega midiendo la señal de salida de la termopila y del conocimiento de la temperatura del instrumento.
El radiómetro neto es adecuado para un uso externo en cualquier condición y requiere poco mantenimiento.
2 Principios de Funcionamiento.
Los piranómetros que componen el LP NET 14 miden la radiación para longitudes de onda entre 0,3 μm y 3,0 μm, mientras que los piranómetros miden la radiación en el rango espectral entre 5μm y 45 μm.
Los piranómetros se basan en un sensor de termopila. La superficie sensible de la termopila está cubierta con pintura negro mate que permite al piranómetro no ser selectivo a diferentes longitudes de onda. El rango espectral del piranómetro está determinado por la transmisión de la cúpula de vidrio de tipo K5 (Figura 1).
La energía radiante es absorbida por la superficie ennegrecida de la termopila, creando así una diferencia de temperatura entre el centro de la termopila (unión caliente) y el cuerpo del piranómetro (unión fría). La diferencia de temperatura entre la unión caliente y la unión fría se convierte en una diferencia de potencial por efecto Seebeck.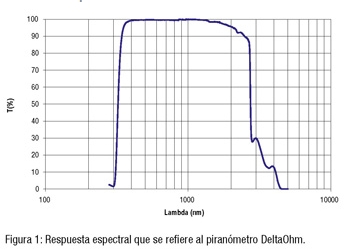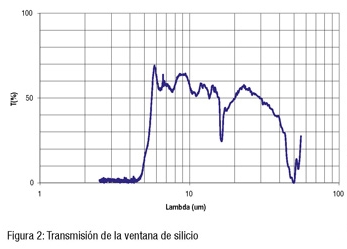 Figura 1: Respuesta espectral que se refiere al piranómetro DeltaOhm.
También los dos pirgeómetros se basan en un sensor de termopila. En este caso, para proteger la termopila, se utilizan discos de silicio. El silicio es transparente para longitudes de onda mayores que 1,1 μm, por lo tanto, en el interior de la ventana hay un filtro para bloquear la radiación de hasta 4,5- 5 μm.
La superficie exterior del silicio, que es expuesta a la intemperie, se recubre con una capa resistente a los arañazos (DLC) para garantizar una resistencia y durabilidad en cualquier condición climática. El revestimiento resistente a los arañazos ofrece la ventaja de la limpieza de la superficie sin el peligro de rayar la ventana. La transmisión de la ventana de silicio en función de la longitud de onda se muestra en la Figura 2: