Connecting the SP-212 Sensor
The SP-212 is amplified with a 2.5V supply.
WIRING THE SENSOR
Attach the sensor to a meter or datalogger capable of displaying or recording a mV output.
In 'Connector Options', you can choose to have the sensor with a connector for a HOBO Data Logger.

The model, serial number, production date, and conversion factor are located on the sensor cable.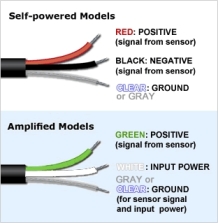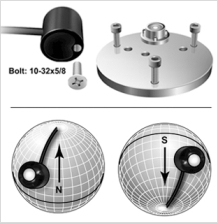 Mounting the Pyranometer
Mount the pyranometer sensor to a solid surface with the nylon mounting bolt. The sensor should be mounted level for the most accurate measurements. We recommend using our leveling plate (AL-100).
The pyranometer sensor should be mounted with the cable pointing toward true north in the northern hemisphere or true south in the southern hemisphere to minimize azimuth error. The azimuth error is typically less than 1%.