La AP-2000 sondas multiparamétricas portátiles avanzadas para calidad de agua. Viene con una serie de sensores estándar incluidos y además ofrece algunas opciones de personalización que permiten añadirle más sensores. Todas las sondas se construyen a partir de aluminio de grado marino anodizado, por lo que son adecuadas para su uso tanto en agua dulce como salada.
Opciones de personalización
La AP-2000 tiene 2 puertos auxiliares que le permiten añadir más sensores. Se puede usar un puerto para colocar un sensor de Iones Selectivos (ISE) y el otro puerto para un sensor óptico, o bien 2 sensores ISE.
Las sondas se suministran con tapones de cierre en los puertos auxiliares.
El modelo AP-2000-D (opcional) mide además la profundidad.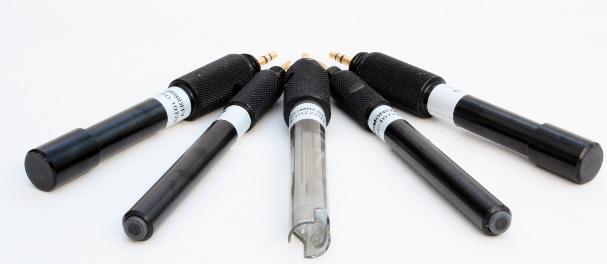 Sensor de profundidad
La versión AP-2000-D cuenta con un sensor de profundidad capaz de medir con una precisión de 0,5% FS.
Cable
Puede utilizar con una variedad de longitudes de cable con conectores AquaConn. Los cables disponibles son de 3 (standard), 10m, 20m y 30m.
The bright red and blue LED's of the optical DO sensor

Advanced Optical DO sensor
The optical sensor works on the principle of Dynamic Luminescence Quenching. A gas-permeable material known as a luminophore is excited with short bursts of blue light, which causes molecules in the luminophore to emit red photons.
By measuring the delay of the returned red photons with respect to the blue excitation, the level of dissolved oxygen present can be determined.
The optical method has various advantages over the historical galvanic method for measuring dissolved oxygen.
The most important being that as no oxygen is consumed across a membrane, the sensor does not require a flow of liquid passing over it to achieve a stable reading. Other advantages include in frequent calibrations (every 3-6 months), and replaceable caps that last over 2 years.
Rugged Connection
All Aquaprobes feature the new AquaConn fully metal connectors. The AP-2000 features the all-metal AquaConn connectors.
These high specification connectors feature large metallic key for a rigid fit, recessed pins for extra protection during pairing, guide markers on each part of the connector to allow you to instantly push the pair together in the correct alignment.