Temperatura programable y transmisor de humedad está equipado con sensores de temperatura y humedad relativa. Los valores medidos también se convierten a otra interpretación de humedad - temperatura del punto de rocío, humedad absoluta, humedad específica, relación de mezcla o entalpía específica. Grados Celsius y Fahrenheit son seleccionables por el usuario. Transmisor contiene un circuito de control basado en un microprocesador en una caja de plástico durable con bornes de conexión y sensores en un filtro con malla de acero inoxidable. Transmisores de humedad está equipado con dos salidas de 4-20 mA aisladas galvánica. Configuración de las salidas y rango de salida son ajustables por el usuario. Gran pantalla LCD de dos líneas para la visualización simultánea de T + RH u otra interpretación humedad es una ventaja. Display es posible apagar. Diseño computarizado asegura la compensación de temperatura del sensor de humedad y fallar indicación. Sensor de polímero capacitivo Estado-of-the-art asegura una excelente calibración de estabilidad a largo plazo, la inercia contra el agua y la condensación. Transmisores están diseñados para su uso en el entorno no agresivo.
Transmisores son aprobados y homologados por:
Los fabricantes de automóviles Renault y PSA ( Peugeot / Citroën) .
Las salidas se establecen alcance máximo del fabricante ( -30 a + 80°C , 0 a 100%de humedad relativa ) .
Para configurar otro rango por la compra de usuario de cable SP003 es necesario - ver accesorio opcional .
Programa de configuración gratuito TSensor para el ajuste del transmisor está listo para descargar en cualquier momento .
Si se requiere un ajuste diferente de los productos, por favor, especifique los valores de salida requeridos (RH , T TdP , .. ) y requiere rangos en la orden. Ajuste es gratis .
Cualquier valor medido - temperatura, la humedad relativa, la temperatura del punto de rocío , humedad absoluta , humedad específica , la proporción de mezcla o entalpía específica se puede asignar a cada salida del transmisor. También valor idéntico se puede asignar a ambas salidas.
Ejemplo de pedido: Transmisor T3110 , salida 1 : RH 10 a 90% , la salida 2 : Temperatura 0 a 35 ° C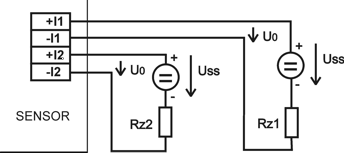 Typical application wiring of dual output transmitter
Calculation of minimum power voltage Uss for proper operation:
Uss min> Uo min + Imax * Rz, 
where: Uo min= 9 V
Imax... approximately 20 mA
Rz... sensing resistor (shunt)
Both current loops (I1 and I2) are connected analogically, current loop I1 must be always connected.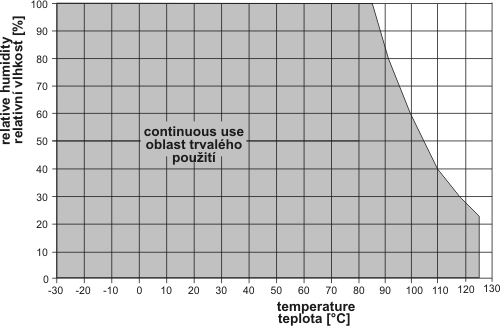 Figure: Relative humidity operating range