Field of use: electrochemistry and energy courses, fuel cells and FC systems engineering, electromechanics, renewable energy.
Applications: classroom instruction, hands-on learning, advanced classes, vocational/professional training, R&D projects.
The "power tool" pack integrates all the components required to operate the electric pruning shear autonomously from the fuel cell without any other power source but hydrogen.
The power generator relies on a fuel cell/super capacitors hybrid architecture to supply all the power needed by the cutter while insuring autonomy and high cutting frequency.
The pruning shear, requiring 670W of power on a strong cut, takes advantage of the hybrid architecture to operate from a fuel cell of only 50W. The pruning shear, usually powered by conventional belt-carried batteries, is a common tool in vineyards and professional gardening.

The whole pack is designed to fit education projects on fuel cells. The pruning shear and power electronics module are protected with suitable clear casing to prevent any hazardous operation. All the components are equipped with sensors (current, voltage, temperature) and are connected to a signal converter module for PC data logging. The LabviewTM and MatlabTM based software allows a complete modeling of the system to understand the energy transfer, efficiencies, power and energy parameters. It is also possible to simulate other applications than the pruning shear.
The Power Tool Pack is delivered ready-to-use.
Key features
- Instrumented system based on a real professional application
- Robust open-cathode fuel cell design
- Didactic software complete data acquisition module
- Possibility to use the fuel cell generator with other applications (12V unregulated or 48V regulated output)
- Safety of the low pressure hydrogen vessel (metal hydride type)
- H2 tank fast charging (10 minutes)
- Real world application for hands-on learning
- Clear and thorough documentation on fuel cells and hydrogen for classroom course preparation
- Strong cross-coupling of studied topics
- Safe hydrogen storage media
Package includes
- 50W PEM fuel cell
- Fuel cell management electronics
- Super capacitors hybridization with DC/DC converter                    
- 20LH2 Rechargeable hydrogen storage canister
- Hydrogen pressure regulator
- System/PC data transfer module
- Electric pruning shear with casing
- System clear casing with harness gear for back mounting
- Dismountable fuel cell mock-up
- Real time data logging and display software (PC)
- Training course material (pictures, PowerPoint files, CAD drawings and files)
- Training course and science book
- Suitcase
Experiments
The Power Tool package is particularly suitable for teachers and instructors wishing to rely on a didactic system that is very close to a commercial/practical fuel cell application.
Beyond the hydrogen energy education, the Power Tool pack leads to a pragmatic comparison between two energy storage techniques: conventional rechargeable batteries and fuel cells (weight, operation range, durability, form factor, embedding factor, usage mode,…).The included software delivers real-time operating parameters and leads the user through an analytical work to compare the theoretical model to the practical case.
The numerical model and physical fuel cell can be used with other applications than the pruner, for example in a student project (RC vehicle integration, electric bike range extender, PV coupling, battery charger…).The training course material supplied with the Power Tool Pack brings a multi-technologies approach in the fields of energy management, use and transformation of matter, data transfer and information processing. Functional analysis and modeling are put at the forefront of product design with numerous supports.
Included software tools and libraries allow efficient power tool performance analysis depending on the operating mode like diameter of wood cut, cut frequency, full or half cycle cut. Investigation can be achieved by simulating the system with varying parameters and configurations and then confirmation by experimentation. Numerous data are fed back by the system to the user: power, currents, voltages, energy produced and consumed at several system stages, gas consumption, cell temperature…).
CAD files and electronics diagrams supplied, as well as a voluntarily open architecture (open source code) offer a fantastic working environment for educational projects, valorizing design and innovation methodologies. Students will be able to produce virtual and real fuel cell powered prototypes.
Check out the video of the new pruning shear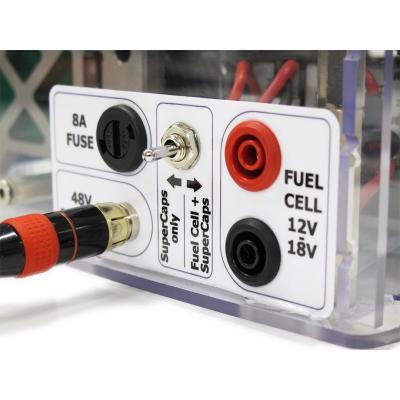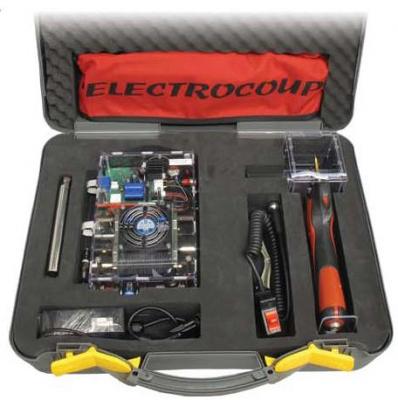 Technical Specifications                                                                                
Fuel cell nominal power                                                           
50W at 12V
Fuel flow rate at rated power
0.6L/min
Fuel cell electrical specs
4.2A – 12/20V
Fuel flow rate at idle
0.07L/min
Pruner max power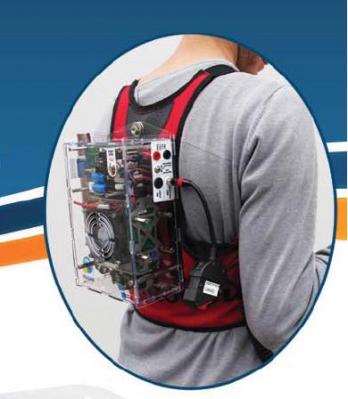 670W – 14A – 48V
Air supply
Integrated fan                                                                
                        
Hybridization
Supercapacitors
H2 storage
AB5 low pressure compound
Endurance on a single tank fill
3 to 4 hours for typical experiment course work
H2 storage capacity
20 standard liters
Security
Pruning shear casing                                                    
Low voltage and max temperature cut off
Storage lifetime
>2000 cycles
Data logging
FC temperature
Currents and voltages for every system block
H2 pressure control
0.3 bar manufactury preset