Características:
Fully SDI-12 Version 1.3 Compliant.
Quick connect through screwless terminal blocks. 
Simultaneously measures up to 3 sensors with 16 bit resolution using a delta sigma ADC.
ADC inputs are differential, and can be configured as single sided with a change to the input resistors.
A wide range of sensor Voltage inputs can be accepted, by modifying the input resistors. 
On board temperature sensor, in addition to the 3 sensor inputs. User must calibrate.
Low power operation with power consumption at less than 6 uA in sleep mode.
Has the ability to power sensors only when sampling.
Potential for interfacing to one wire devices.  (contact us about details.)
Wide input voltage range. 
Surge protection on sensor inputs. 
Each of the measurements can be adjusted with a scaling factor and offset.  (out= scale*V + offset).
Uses extended SDI-12 commands to set and retrieve all calibration parameters.

How to Get Started with the SDI-12 Sensor Translator
The best way to try out the SDI-12 Sensor Translator is to order a few samples and connect them to your sensor.  The sample board contains terminal blocks for quick connections.  Merely connect your sensor inputs to the SDI-12 Translator inputs, connect the Translator to your SDI compliant data logger, and start retrieving data from your sensor. Once your are satisfied that the SDI-12 Sensor Translator meets your specifications,  you can purchase the boards with a volume discount. 
 
El Problema del SDI-1
Although SDI-12 is a cryptic hardware and software protocol, it is still a widely used standard interface between environmental sensors and data loggers.  Until now, sensor vendors have had the difficult and costly burden of creating their own SDI-12 solutions from scratch. Because of the many eccentricities of the SDI-12 protocol, it is a difficult task to create a truly compliant SDI-12 sensor interface.
The SDI-12 Sensor Translator
Figure 1 - SDI12 Sensor Translator Sample Board. 
(Custom foot prints available, for large quantity orders.)
Vegetronix has solved the problem of interfacing sensors to the SDI-12 bus by creating a small SDI12 Sensor Translator board which contains all of the necessary functionality. The SDI-12 Sensor Translator p powers the sensor, and samples it with a high resolution ADC when it receives a measurement command from an SDI compliant data logger. The SDI-12 Sensor Translator handles all of the communication, and power down features of the SDI-12  protocol.  
Figure 2 shows a connection diagram for utilizing the SDI-12 Sensor Translator.  Single sided or differential outputs of up to 3 different sensors are tied to the inputs of SDI-12 Sensor Translator. In addition, for custom orders,  the SDI12 Translator can sample One-Wire devices such as the Dallas DS18B20 temperature sensor.  The Translator contains connection points for power, ground and the SDI-12 data line.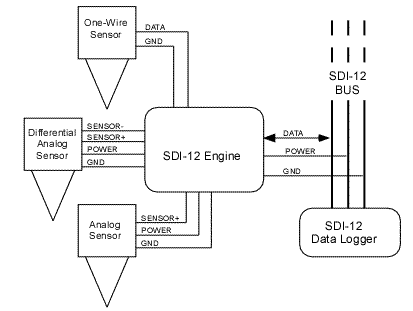 Figure 2 - SDI12 Sensor Translator Connection Diagram.
Because of its small size the sensor can often be incorporated into the sensor housing.  Alternatively it can be used externally.   For sufficiently large quantities, we can provide custom board shapes to fit most any form factor.  
The Translator is extremely low power with only a 10uA current drain when it is sleeping, and it provides sensor power control, so that the sensor only receives power during a measurement cycle. 
All standard SDI-12 commands are supported. In addition, it has extended commands which can be used to calibrate sensor outputs. 
Each of the measurements can be scaled and offset with user supplied calibration coefficients. 
Our Translator has been fully tested with the NR Systems SDI-12 Verifier.