Hypocalcemia is one of the most common disorders affecting dairy cows at the onset of lactation.
It is characterized by decrease in blood calcium below normal level. Stricken cows may have it with symptoms (clinical hypocalcemia or milk fever) or without symptoms (subclinical hypocalcemia). Ionized calcium (iCa) is the physiologically active form of calcium in blood.
It reflects more accurately the current calcemic blood situation compared to total blood calcium as it equals the free available calcium ions.
By measuring the ionized calcium levels of  blood samples directly near the cow, the treatment of dairy cows can start sooner preventing debilitating symptoms or complications.

The new LAQUAtwin Ca-11C has been specially developed for cow-side measurement of ionized calcium in blood. It is ideal for screening dairy cows for hypocalcemia.

-  Minimum sample volume: 0.3ml
-  Up to 2 calibration points
-  Auto standard recognition: 1.25 & 2.50 mmol/L calcium ion
-  Auto hold / auto stable measurement
-  Auto power off: 30 mins.
-  Low battery indicator
-  IP67 Rating dust & waterproof
-  Replaceable sensor
-  150 hrs. battery life: continuous use without backlight
-  Material: ABS epoxy
-  Display: custom (monochrome) digital LCD with backlight
-  Operating conditions: 5 to 40 ºC, 85% or less relative humidity
-  Warranty: 2 years - meter, 6 months - sensor
-  Packed in handy carrying case
-  Supplied with 1.25 & 2.50 mmol/L calcium standards (25ml x 2 each), 251 cleaning solution (250ml) x 3, CR2032 batteries x 2, wash bottle, instruction and quick use manuals.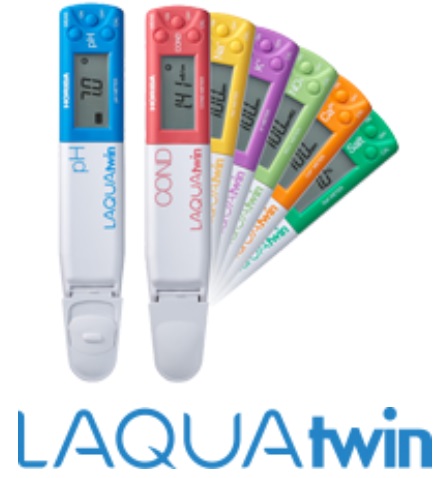 Accurate measurement from only a single drop of sample onto HORIBA's original flat sensor. LAQUAtwin product line-up offers easy, quick, and reliable measurement of 8 parameters. It brings new dimension to your water quality testing.