At Milky Day you can find almost everything that you need for milk processing. All our products are of a top quality and we sell them for very attractive prices. Moreover, they could be shipped all over the world and are covered by 2 years warranty. We offer quite a wide range of dairy equipment that is categorized into 3 product groups: cream separators, butter churns, and pasteurizers.

Cream separators:

Cream or milk separator is a machine that divides a whole milk into skimmed milk and cream. You can use both these products to make sour cream, butter, cheese or yogurt, for example. There are two types of cream separators: electric and manual. If you are planning to process large amounts of milk, the electric one is the best option. If there is no electricity in the place, where you would like to separate milk, the manual cream separator is your choice.
We offer 2 brands of cream separators: Milky and Motor Sich. Milky is a premium Austrian brand that uses high-quality materials to produce the equipment. Motor Sich is a Ukranian company that besides cream separators manufactures the engines for planes and helicopters. You can imagine how reliable the Ukrainian cream separators are.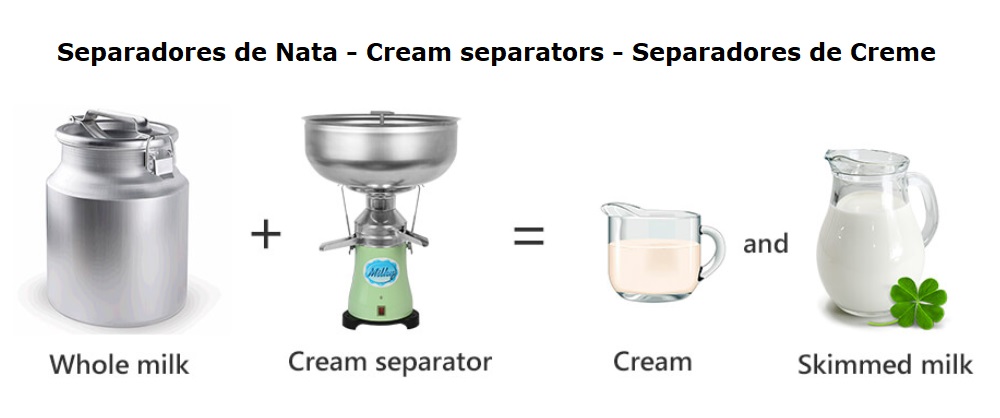 Butter churns:
If there is too much cream left after milk separation or you would like to expand your dairy business, you can pay attention to a butter churn that will help you produce butter. Butter churn makes butter and buttermilk from the cream. There are also two types of butter churns (electric and manual) and two types of brands (Milky and Motor Sich) that you can find on our website.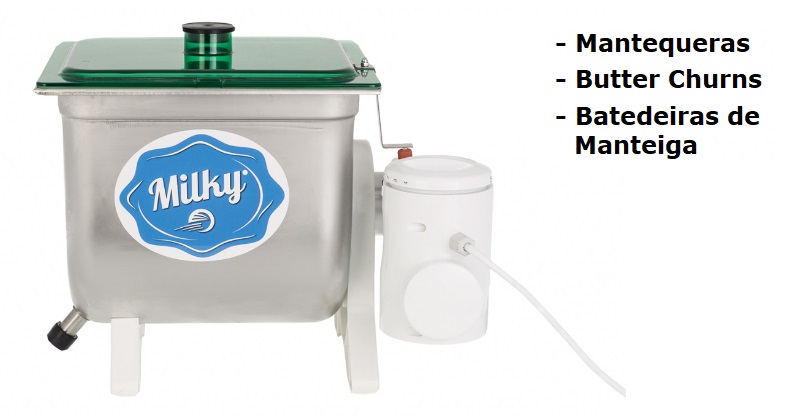 Pasteurizers:
A pasteurizer is a device that serves for thermal processing of milk, juices and other food products. Milk, juice or some other product is heated up to a certain temperature, and then it is abruptly cooled down. The main function of pasteurization is to prolong a shelf life of milk and juice by killing harmful bacterias while keeping alive the good ones. We call the pasteurizers a multifunctional device because pasteurizing is not the only thing that they can do. With help of this kettle, you can produce cheese or yogurt. All that you will need except milk is special cultures that transform milk into cheese or yogurt. We offer pasteurizers of the brand Milky and they are really easy in use and will serve you for a long time. One thing that you should know is that cheese and yogurt can be produced only in 230V versions as they have a higher heating temperature that is necessary for cheese and yogurt production.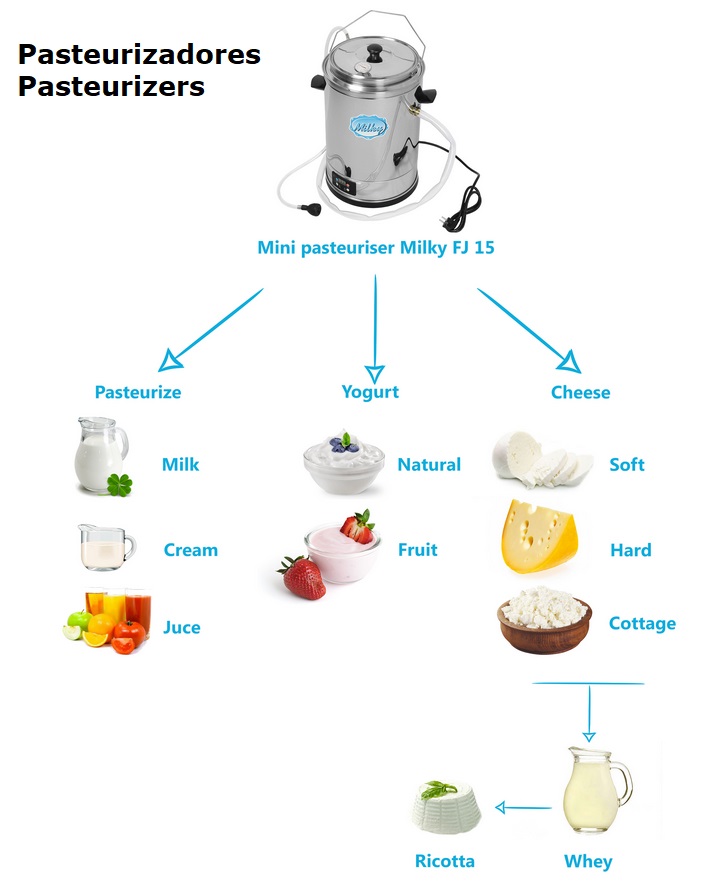 All the above-mentioned machines will help you develop your dairy business as well as produce healthy and tasty milk products. If you need any help or have any questions, we are always here for you and will be happy if you contact us.