Industry's First Gigabit USB Device Networking Solution designed to easily share multiple USB devices over the network.
One 10/100/1000Base Ethernet port that can be connected to a wireless router for wireless USB device networking

Two Hi-Speed USB 2.0 ports supporting up to one amp of USB bus power combined

Connect up to 15 USB devices (scanners, network storage, etc.) to the network with a USB hub
Instantly Convert Your USB Devices to a Shared Resource on Your 10/100/1000 Gigabit LAN
The Gigabit USB Device Server provides very fast throughput USB 2.0 Hi-speed devices. It instantly converts the connected device(s) for access anywhere on yournetwork. Now you can enjoy the convenience and freedom of remotely using multifunction printers, scanners, storage devices, or various other USB devices. It brings flexibility and productivity of USB devices to a whole new level in any environment including home, SOHO, school or business setting.
The SX-3000GB makes working with USB devices very easy. By attaching a USB hub, the SX-3000GB can integrate up to 15 USB devices to the Gigabit network. After installation all network users can share the resources. Users can access the USB devices and use them as if they were attached locally to their computers

The SX-3000GB is able to acquire status information, and allows for the configuration and use of the device
The included SX Virtual Link utility allows you to easily discover the USB devices on the network, connect and disconnect, and see status: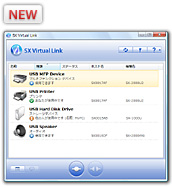 .
Also included is a web browser interface for configuration and management of the device.